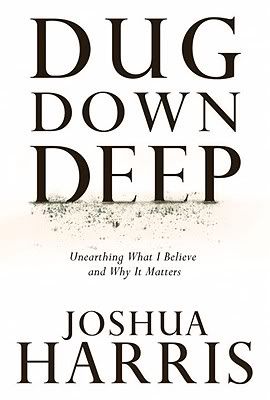 I finished reading "Dug Down Deep" by Joshua Harris yesterday. I have come away with a very high level of respect for Joshua Harris and a conviction that everyone who calls himself a Christian should read this book.
As a pastor, one of the things that I am aware of is that we are raising a generation of biblically illiterate believers. The sub-title of the book by Joshua Harris is "Unearthing What I Belive and Why It Matters."
What we believer will determine how we act, and sadly, many believers have no clue as to what they really believe.
While the word "deep" is in the title, the book itself is not a deep theology book, and Harris acknowledges that. In fact, if you don't generally like theology type books, I think you will enjoy this one...consider a theology book for people who don't like theology. You may not even consider yourself a theologian at all, but as Harris states in the first chapter, "We're all theologians. The question is whether what we know about God is true."
But just because it is not deep, does not mean that it is not good. In fact, it is very good. Harris weaves autobiographicaly stories along with sound theology, making the book not only readable, but memorable as well. While I have read "deeper" books on the subjects Harris addresses, I have not read about theology in more entertaining, while still thought provoking way.
Some of the subjects Harris tackles are God, the Bible, Jesus, the death of Jesus, redemption, sanctification, the Holy Spirit, the church....and humble orthodoxy. In my opinion the chapters on the Holy Spirit and the church are worth the price of the book all by themselves.
But don't take just my word on it...here is what some others have to say about the book:
J. I. Packer: "Via vivid autobiography, Pastor Harris takes readers on a personal journey into the biblical theology that, belatedly, he found he could not manage without. A humbling, compelling, invigorating read."
John Piper: "When the apostle Peter says, 'Humble yourselves under the mighty hand of God…casting all your anxiety on Him,' he implies that humble people are fearless. They have the courage to stand up for truth humbly. I love the term 'humble orthodoxy.' And I love Josh Harris. When they come together (Josh and humble orthodoxy), as they do in this book, you get a humble, helpful, courageous testimony to biblical truth."
Joni Eareckson Tada: "More than forty years of quadriplegia has underscored to me the matchless value of knowing—really knowing—the doctrines of the Christian faith. Dug Down Deep reveals how biblical doctrine provides a pathway to understanding the heart and mind of God. If you're looking for 'that one book' that will push you farther down the road to faith than you've ever journeyed before, Dug Down Deep is it. I highly recommend it!"
Get "Dug Down Deep" and get your spiritual shovel out...you'll need it.
Pastor Dave