Years ago, as a child I remember reading a book called, "Are You My Mother?" by P.D. Eastman.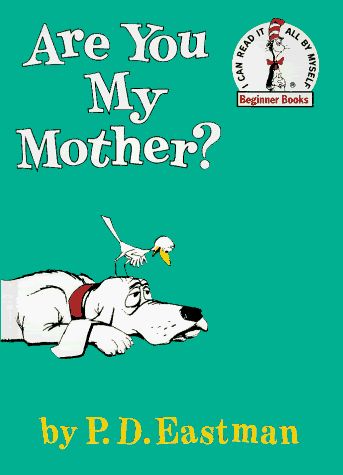 In it a lost little bird goes from animal to animal looking for it's Mother.
I couldn't help but think of a parallel in the church today.
There are hurting brothers and sisters all around us, and often when they reveal their hurts, their struggles, their mistakes and their sins, the church turns it's back on them. They are searching, for fellow believers, asking honestly from broken hearts and broken lives, "Are you my brother?", "Are you my sister?"
Now, don't get me wrong. I don't think we should tolerate sin, and I don't think we should try and "manage" sin. We need to run from sin. We need to run to Jesus, and Jesus will heal us and forgive us and cleanse us. But, let's not forget that we all need forgiveness, cleansing and healing of our sin and the affects it has on our lives.
We find it so easy to cast stones at someone else, yet we are all in different stages of our own sin addiction. I'm sure someone will say, "Not me. I'm not addicted to sin." Then, like most addicts you are only fooling yourself. Sometimes I think I need to stand up in church and say, "My name is Dave, and I'm a sin addict."
Why do I call us all sin addicts? Simply because none of us have been able to stop. Oh, we might have cut back, or quit for awhile (seriously, though, how long do you really think you can go without sinning?), but in the end, we all wind up sinning again. As beleivers, we should sin less, but we will never be sinless. Yes, there is a difference.
Scripture tells us in 1 John 1:8 "If we say that we have no sin, we deceive ourselves, and the truth is not in us." And then again just a couple verses later:
1 John 1:10 "If we say that we have not sinned, we make him a liar, and his word is not in us."
You might have a problem with me calling us sin addicts, but if it is really buggin' you, take it up with God. He's the one who said in His word that we sin and we are sinners.
So what do we do when a fellow beleiver sins? What do we do when they are struggling? What do we do? We love. We encourage. Not the sin, just the sinner.
Don't misunderstand me, and I want this to be crystal clear, sin is sin and it is layed out in scripture and is black and white. We should not sugar coat it or excuse it, but we must learn to forgive it and to restore the one who has committed it.
Sin is layed out in scripture in black and white. But ever since the fall of man, we have been living in a grey world. Sin gets messy and hard to nail to the wall. So forgiveness and restoration must be worked at and be readily available to anyone who is looking for it.
Now, some want forgiveness and accpeptance of them and their sin. We cannot do that. We cannot camp with sin. We cannot embrace sin, but we must embrace the sinner. If some will not repent (which means turn from their sin....and sometimes the turning is hard work, and a long process, not an overnight victory with a snap of our fingers), then we still need to forgive them, but we will not be able to support them while in the midst of their sin.
But if a brother or sister is hurting because of bad choices (sin), and those consequence, and are desiring to make things right, then we need to be there. We need to support them. Gal 6:1 "Brethren, if a man be overtaken in a fault, ye which are spiritual, restore such a one in the spirit of meekness; considering thyself, lest thou also be tempted."
When someone runs down another brother or sister we need to not listen, but to work it out according to scripture (which would be a good idea for a future post).
Sometimes our brothers and sisters are just going through a rough time in their life and they need us. Too often we just want to slap a "Praise the Lord" on it and think it will all go away. This is both naive and just plain wrong.
Or we pull out our favorite scripture in the face of the hard things we all go through, "And we know that all things work together for good to them that love God, to them who are the called according to his purpose." (Romans 8:28), and use this as an excuse not to be there for our hurting brothers and sisters, because after all if you love the Lord, this will be a good thing. WRONG! The passage doesn't say that the struggles, trials, tragedies and hard times are good, it says that God will work something good out of them, which should give us encouragement and hope, but does not lessen the pain and suffering we go through while dealing with these things.
So the next time you encounter a hurting brother or sister, whether hurting from sin or from life, and they are asking "Are you my brother?" or "Are you my sister?", let's be quick to say, "Here I am." "Let me walk with you."
I know this is a lengthy post, but hey, it's been awhile, so I'm making up for lost time.
I want to close with a song from one of my favorite Christian artists, Steve Camp.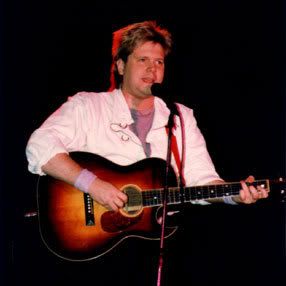 And I dedicate it to my brother Tim, who even though he is my little brother, spiritually I have always looked up to him as my brother in Christ. I'm here for you Tim.
I Believe In You
by Steve Camp and Rob Frazier
Have you ever felt forsaken
Like nobody really cares for you
They just walk on by
Yeah they walk on by
Is there a hole in your resistance
I thought I saw your lonely heart show through
Oh they just walk on by
Oh they let it pass you by
Because I know you wonder
Will you have to make it on your own
But you can count on me brother
You don't have to face the hurt alone
Cause if there's trouble in your life I'll face it with you
If there's mountains to climb I'll climb there too
We're in this together, I'll see you through
Oh, I believe in you
Well I was cruising down the street
I heard somebody kick around your name
I couldn't walk on by
I don't believe their lies
Cause a friend is always faithful
Through the fire and the rain
I'll stand by your side, I'll be by your side
We'll always be together through the thick and the thin
Through all the stormy weather I want you to know you've got a friend
Cause I know you wonder will you have to make it on your own
You just count on me brother, you don't have to face it all alone
...oh, I believe in you
Still crawling towards the light,
Pastor Dave