Over the last year or so I have been reading some books that have had a huge impact on my walk with Christ. They have caused me to rethink my commitment to Jesus, what it means to be a Christian, how to live out the Christian faith…what a life totally surrendered to Jesus might look like, and a host of other questions.
Some of these books have been: "Crazy Love" by Francis Chan; "Radical" by David Platt; "Not A Fan" by Kyle Idleman.
Most recently I have just finished the novel, "Courageous" by Randy Alcorn.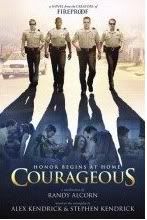 This is based on the screenplay of the upcoming movie by the same name. As a pastor, I have been able to see an advance screening of the movie, and as great as the movie is, the book is even better, and has had an even bigger impact on my life than the movie.
All of these books, and the movie, have one theme in common…how can you stay the same after you have encountered Jesus. They may not seem as if they are addressing this issue, but at the core, that is exactly what they are saying.
How can you stay the same after you have encountered the "crazy love" of Jesus? How can you stay the same if you have come into a relationship with this "radical" Jesus? How could you ever be just a "fan" and not a totally committed follower of Jesus after you realize what He has done for you? And how could you not be changed into a "courageous" follower after you have been loved to the cross by this man, who is God in the flesh, Jesus?
Reading John chapter 8 today, these thoughts and more came to my mind, especially when I got down to verse 11.
In John chapter 8 a woman was caught in adultery and brought to Jesus. Now, the first thing that comes to my mind is where was the man? As my Dad used to tell me, "It takes two to tango." Maybe the man was a Pharisee or a scribe and so they were protecting one of their own. Maybe this woman was a prostitute, so they were trying to get rid of an unwanted person in their society. Whatever the reason, they were one sided in their presentation of their religious beliefs.
Jesus would have none of that.
After he wrote something in the dirt…(ever wonder what He was writing? Maybe it was the name of the scribe or Pharisee that was with the woman)…He answered them with this in verse 7: "Let him who is without sin among you be the first to throw a stone at her."
Well, that ended that. One by one they left. Until only the woman and Jesus remained. It was after this that He said these words to her in verse 11: "Neither do I condemn you. Go and sin no more."
If I had a nickel for every person who quoted the first part of that statement from Jesus to me, well, I'd be a rich man for sure. Everyone wants the "no condemnation" Jesus, but not to many are ready to embrace the same Jesus that says, "Go, and sin no more."
But it is the second part of the statement that is essential and vital to this dialogue.
"Go and sin no more."
In essence He was saying, "Go, and leave your old life behind. Go, and walk in a different direction than what you were heading. Go, and follow Me."
And how could she not do so? After being forgiven by Jesus, how could her life not be changed? How could she continue in the life she once had? After this day, after this encounter, after being saved by Jesus, how could she not now live for Him?
And yet, many professing believers in Jesus seem to do just that.
Far too often, I have found myself doing just that.
No more.
Please don't misunderstand me. I am not saying that I can be sinless…but I am saying that I can sin less. I am saying that I can follower Jesus closer. I am saying that I can love Him more.
And after all, isn't that what it is all about.
Having this crazy love, this radical love, this courageous love, this love that causes me to be a follower and not a fan, of the one who gave His life for me…Jesus.
Will you join me?
Let's go.
Pastor Dave