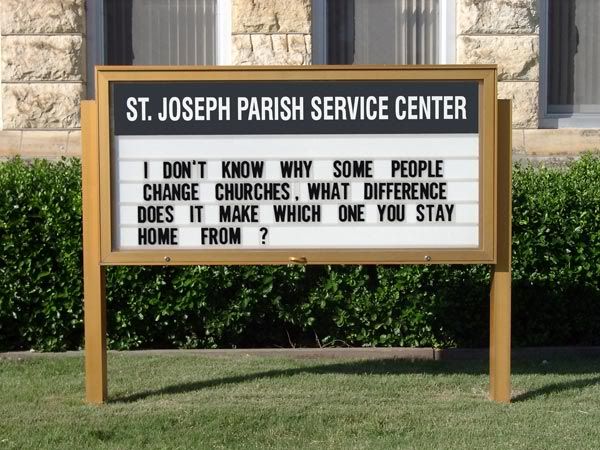 Yeah, I thought the sign was kind of funny when I first read it…but I'm not laughing anymore.
I'm not laughing anymore because of a visit I had with a 99 year old saint today.
I'm not laughing anymore, because I no longer see anything funny in the sad fact that more and more it seems as if people who claim the name of Christ; who say that they will abandon all to follow Jesus, and call Him their Lord and Savior, seem to see meeting together with their brothers and sisters, with the body of Christ, the bride of Jesus, as optional.
In the seven years that I have been the pastor at Loma Rica Baptist Church (LRBC), I have heard and seen just about every excuse there is…but there is only one reason for those of us who are called Christians to meet together. We are told to.
In Hebrews 10:24-25 it says, "And let us consider how we may spur one another on toward love and good deeds. Let us not give up meeting together, as some are in the habit of doing, but let us encourage one another—and all the more as you see the Day approaching."
These two verses tell us some very crucial things about the role the church is to have with itself.
First: We are to consider how we may spur one another on toward love and good deeds. This shows that while the church may be saved and sanctified, she is also still sinful. While our identity is no longer as sinners, but saints, we still must be encouraged to do what would have come naturally back in the garden…loving and doing good deeds. The author of Hebrews is telling us that we need to encourage one another to love…one of the ways we do that is by having to learn to love people we spend time with that are different than us in many ways and on many levels. We also need to encourage one another to do what we should: to read the Word, to share the gospel, to reach out to the poor and the needy, to be a light in a very dark world.
Two: We are told to not give up meeting together. In simple terms, that means: "Don't stop going to church." Whether it's a home church or a rented high school auditorium, or LRBC, just don't stop going.
Three: Not only are we to not stop going…but we are to go even more, the closer it gets to the return of Christ. Now, since we are closer today, than we were when the letter was written, we need to ask ourselves a simple question: "Are we meeting together more often than they did then, or less?" Now, I know some may say that this "more often" is in reference to the statement of "encouraging one another", and this is true, however, that statement itself is said in connection with "not giving up meeting together". It's tough to encourage your brothers and sisters that are at a Wednesday night prayer meeting while you're out bowling that night.
Please don't misunderstand me here. I recognize that we all live busy lives, and that we have family, homes, vehicles and "stuff" to take care of, but what a shame that we use these blessings that have been given to us by God as an excuse not to meet together. In addition, with all the options that most churches have for meetings, there is no doubt in my mind that all of us could attend at least once per week, and most of us could attend more than that.
For some reason though, we have seen church attendance, meeting together for study, and for prayer as optional. The meeting of the body of Christ has become something many professed believers attend as long as there is not something better to do.
Let me share some personal statistics with you. Our Sunday morning service has about 100 people in attendance every Sunday. Those who know my history with LRBC know how humbled I am by this. It is nothing short of a mighty work of God, and I pray constantly that I will not get in the way of what He is doing.
We also have a Sunday evening prayer meeting, and yep, it is an honest to goodness prayer meeting we call "Fresh Encounters", inspired by the ministry of Daniel Henderson. You can check out his website here: http://www.strategicrenewal.com/daniel.htm
Wednesday evening from 7:00 to 8:00 we have a Bible study. The attendance on Wednesday runs about 20 to 30. The prayer meeting attendance is around 10 to 15. This means we experience a drop of 85 to 90% on Sunday evening and 70 to 80% on Wednesday night. Now, I do live in the real world, and so I don't expect everyone who is there on Sunday morning to make the other meetings, but a drop from 70 to 95% is huge folks!
While I'm not sure why this is the way it is, I have a two thoughts as to why it may be this way.
The first is this: Our prayer and Bible study meetings (we have a Sunday morning all ages Bible study as well, that generally is only attended by about 20% of the people who are there for the "worship" portion of the Sunday service) require more out of you than just showing up. They require participation and attention. Sadly, many want to come and feed on Sunday, but not to come and serve and give on the other nights.
The second is: Believers in the Western church don't seem to want to meet together if sacrifice is required. If it is hard, or difficult, or requires any extra effort, they just opt out. Of course, it may just be that the lack of commitment to meeting together is just a snapshot of our western culture when it comes to commitment in general.
So, no, I'm not laughing anymore.
I'm not laughing anymore because of a visit I had today with a 99 year old saint. Esther is her name, and she has a brain tumor. She has been going to LRBC faithfully for the last 30 plus years, long before I got there. She will soon be going home to be with Jesus, to worship Him as she never could here. But while visiting her today, she shared two regrets with me.
The first one is that she regretted that she could not remember more Scripture. I laughed with her and told her that I was just glad I could remember to tie my shoes and at her age, anything she could remember would be counted as a success. She could quote quite a bit of Scripture though, but she regretted that she could not quote more.
The second regret is that she knew she would not be able to meet with her brothers and sisters at LRBC again. Oh, she knows she will worship with us again in heaven, and on the new earth one day, but she said she just wished she could meet together in that little country church one more time. With tears in her eyes, she repeated those words, "Just one more time."
As I drove home I began to cry. "Just one more time," I thought. All she wants is just one more time…and yet tonight, Wednesday night, more than likely, 75 to 80% of people coming to LRBC will not show up for "just one more time." Instead, they will go bowling, watch tv, read a book, surf the internet, wash their car, or a hundred other things.
I have read many stories of the persecuted church, and how they will walk for miles in the dark, to meet in secret, and that they will worship together for hours before leaving. I have often wondered why they would do that when here in the good ol' US of A, too many believers complain if the church service goes past noon. I think I know why now. They never know if the present meeting might not be their last. They never know if they will soon be wishing, like Esther, for "just one more time," so they grab onto all the worship and fellowship and Bible study and prayer time together that they can.
I'll be posting about this some more tomorrow, but I have to go now. I have a Bible study to get to. Thank you Jesus for the Bible study tonight…who knows, it just might be my last one.
Pastor Dave