Finally finished reading the book, "Secondhand Jesus" by glen Packiam.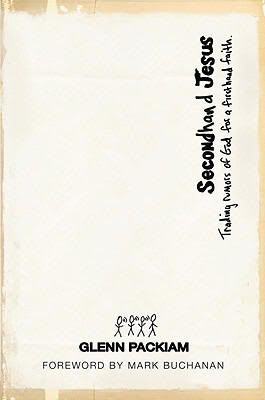 As mentioned in the previous entry, this book has really made me stop and think. Glenn doesn't necessarily bring anything new to the table in this book, but he does bring it in a new and fresh way.
The book is about those, "what the heck" moments we all have in our lives. You know the ones where you are doing everything you are supposed to do and then you don't get the results you think you should get. You're being obedient, folloing the Lord and instead of blessings, tragedy strikes, pain enters in, problems arise and your world seems to crumble down around you.
Without going into details, Glenn speaks from experience. He worked for a church that was rocked by scandal, and then by disaster. Through it all, he came out closer to God, redfining what it meant to follow Jesus and to know Him.
He got a firsthand faith.
While the title and premise of the book intriqued me, I didn't think I suffered from secondhand faith. I was wrong. I came away realziing just how much I defined who I am in Christ by what I do, what I hear others say, and not enough on what HE HAS DONE FOR ME.
One of the interesting things Glenn does in this book is he uses his own personal life stories, interwined with the stories of the Ark of the Covenant from the Old Testament to describe just what this secondhand faith, or secondhand Jesus is all about. I love it when an author makes the Old Testament (or any Scripture for that matter) come alive and fell fresh.
But don't take my word for it.
God out and get the book....learn about what Glenn is talking about...firsthand.
Jehovah Adonai
Pastor Dave