I've been reading a few books by A.W. Tozer lately.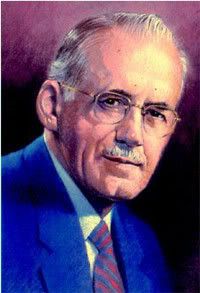 And conviction seems to follow soon after I finish a book.
Tozer died in 1963, and so his books are written in a style that is a bit different than today, and they take a little work to get through, but they are worth it. He pulls no punches and I have found myself on my knees both in my heart, and physically on the ground, after reading his books.
I desired to know more about this man who wholly surrendered his life to God, and had briefly mentioned something to my wife. Being the observant wife that she is, she noticed that I had been reading books by Tozer, and this along with a couple of brief comments about how they impacted my life, led to me opening a gift from my beautiful wife of 23 years on Christmas morning. That gift was the book, "A Passion For God: The Spiritual Journey Of A.W. Tozer" by Lyle Dorsett.
One of the amazing things I learned is that Tozer did not grow up in a Christian home, and had no Christian influence in his life. He was led to the Lord after hearing two different street preachers preach the gospel, and so alone in his bedroom, he prayed to the Lord for salvation. He was the only beleiver in his family for many years.
Now, I am only on page 68 in this book (which only has 189 pages, so I hope to finish it by tomorrow), and so I cannot give a complete review, but at this point I am deeply moved by the story of Tozer's conversion and commitment to the Lord. I want to just leave you with a portion of the prayer that Tozer prayed and wrote after he was ordained as a minister of the gospel.
If there are any preachers reading this blog, take note of this prayer. The heart of this prayer should be the heart of any man who feels called of God to preach the gospel.
"O Lord i have heard Thy voice adn was afraid. Thou has called me to an awesome task...Lord Jesus, I come to Thee for spiritual preparation. Lay Thy hand upon me. Annoint me with the oil of the New Testament prophet. Frobid that I should become a religous scribe....Save me from the curse that lies dark across the face of the modern clergy, the curse of compromise, of imitiation, of professionalixm. Save me from the error of judging a church by its size, its popularity or the amount of its yearly offering....Save me from the bondage to things. Let me not waste my days puttering around the house. Lay thy terror upon me, O God, and drive me to the place of prayer where I may wrestle with principalities and powers and the rulers of darkness of this world. Deliver me from overeating and late sleeping. Teach me self-discipline that I may be a good soldier for Jesus Christ....if in thy permissive providence honor should come to me from Thy church, let me not forget in that hour that I am unworthy of the least of Thy mercies, and that if men knew me as intimately as I know myself they would withold their honors or bestow them upon others more worthy to receive them.....I concecrate my remaining days to Thee; let them be many or few, as Thou wilt....I am Thy servant to do Thy will, and tht will is sweeter to me than position or riches or fame and i choose it above all things on earth or in heaven....let me never forget that I am but a man of dust and ashes, a man with all the natural faults and passions that plague the reace of men. I pray Thee therefore, my Lord and Redeemer, save me from myself and from all the injuries I may do myself while trying to be a blessing to others. Fill me with Thy power by the Holy Spirit, and I will go in Thy strength and tell of Thy righteousness....Then, dear Lord, when I am old and weary and too tired to go on, have a place ready for me above, and make me to be numbered with Thy saints in glory everlsting. Amen."
All I can say is, "Wow!"
Even now, after already having read this prayer by Tozer once today, I am moved all over again. This prayer took place on August 18, 1920. I beleive that the heart of this man of God in this prayer is needed even more today in the heart of every preacher of the gospel.
I encourage you to pick up some books by Tozer, and devour them.
Some of the books he wrote are:
The Pursuit Of God
God's Pursuit Of Man
The Radical Cross
The Attributes Of God (2 volumes, with study guide)
That should keep you busy for awhile.
And now, I'm off to spend some time in prayer, as I imitate my brother Aiden W. Tozer, as he imitated Paul, and as Paul imitated Christ.
Pastor Dave