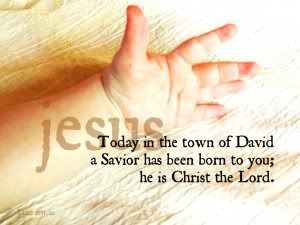 We are currently going over basic doctrines at our Bible study on Wednesday nights. Tonight we will finish up studying the incarnation. This has been one of the most enjoyable for me to teach so far. It has really got my brain and imagination spinning.
It is one BIG HUGE GINORMOUS miracle. The 2nd person of the Trinity, Jesus, God the Son, confining and limiting Himself in the womb of a young jewish virgin named Mary. We often think of all the pain and suffering that Jesus went through from the Garden of Gethsemane to Calvary, and yet the incarnation has had me reflecting on the pain and suffering of everyday life that Jesus had to endure because He loved us so much.
It has driven home the fact that His whole life was offered up as a sacrifice for me. His whole purpose for coming was to die...to be offered up as a sacrifice for our sins, to pay the penalty that we could not pay. However, to get to Calvary, the suffering that He had to deal with began long before that night in the Garden.
Even the birthing process is a tramatic part of life for the newborn...and Jesus went through it. He endured stubbed toes and skinned knees. Did he cry the first time he got a splinter from pretending to be a carpenter like His earthly father Joseph? Was He ever made fun of as a child? How many times did the one who formed and fashioned limbs, bones, muscles and nerves trip and fall while He was learning to walk? How often did the One who spoke the sun into existence get sunburned?
I would encourage you to spend some time reflecting on the incarnation and all that it means. I cannot speak for you, but for me, I will never be the same.
Matthew 1:22-23: "Now all this took place to fulfill what was spoken by the Lord through the prophet: See, the virgin will become pregnant and give birth to a son,
and they will name Him Immanuel ,which is translated "God is with us."
Isaiah 9:6: "For a child will be born for us,a son will be given to us, and the government will be on His shoulders. He will be named Wonderful Counselor, Mighty God, Eternal Father, Prince of Peace."
The incarnation. Wow. Mighty God indeed!
Pastor Dave