Sometimes I am amazed at my ability to drop the ball (spiritually speaking), to get complacent, to coast, to let things ride, to just go through the motions. A few months ago I was so very fired up about this blog...ready to go, both guns blazing...and then three months went by and nothing...zip...nada.
It has only been in the last week that God has shaken me to my very core. He has convicted me of my sin, driven me to my knees, and shown me the coldness of my heart. He has served up a plate of steaming, tasty food in His Word! I have devoured the written Word of God as never before, and renewed my commitment to be not only a man of the Word, but a man of prayer, and a man who seeks the face of God.
As a part of this process He has done two things that have led me to this point. First he directed me to a book that has caused me to question the state of the church in America as never before. I am more sure than ever before that if Revival does not come to the church in the United States of America, that judgement will. For the sake of our children, and our childrens children, but even more for the glory of God Almighty, the church must once again march on her knees, cry out to God to send the Holy Spirit with fire and wind and for God to bend us towards Him, His ways, His Word, and His throne.
The book that has impacted me is this one: "A God Sized Vision - Revival Stories That Stretch And Stir" by Collin Hansen and John Woodbridge: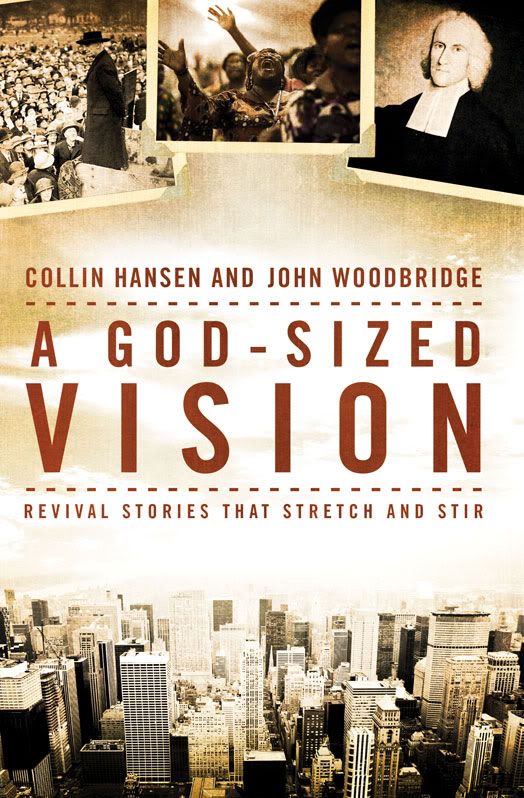 Room does not allow me to post all the quotes that are recorded in this book by those who lived through past revivals. But I will post this one by Jonathan Goforth, who was used to bring revival to China in the early 1900's. The quote is not really about revival, but it is inspiring to me as it reveals the heart of this missionary when it comes to revival and the plight the church in the US finds herself in:
"Brethren, the Spirit of God is with us still. Pentecost is yet within our grasp. If revival is being witheld from us it is because some idols remain enthroned; because we still insist on placing our reliance on human schemes; because we still refuse to face the unchangeable truth that 'it is not by might, but BY MY SPIRIT.'"
To be honest, if you can read this book and not be moved...if you can read this book and not desire to see revival in your lifetime, well, you don't need to be revived, you need to be resurrected.
The second thing He did was inspire me to preach the boldest most evangelistic sermon that I have ever preached in my life...and with good reason. The Sunday that I preached this message, two people showed up who did not know the Lord...and one of them has cancer, and it is terminal. Although they did not respond to the message and accept Christ, the intensity of the Spirit that morning was evident. I cried more during this message than any other as I sensed that here was someone who was knocking on the very door of death itself and yet would refuse the offer of eternal life. In my heart as I was preaching God began to speak to me that I needed to share my faith more, that as a pastor I was to teach the church, but as a Christian I am to take the gospel to the lost and the dying and the hellbound. I got a very clear picture of hell in my minds eye....and I cannot be quiet any longer.
My desire is to be used by God and to sacrifice anything and everything that takes away from this goal. I want to pour my life and love into my wife, to give myself to my children, to shepherd the church God has given me with the heart of the Great Shepherd, to pour my life out as an offering to the One who has given me not only the purpose of my life, by my very life itself. I want to have a broken heart for the lost and a fresh heart for the Lord and His people.
Part of that, I pray, will include firing up this blog once again. How often I will post I do not know, but this one thing I do know, that God has called me to a work and I dare not fall asleep on the job. I pray that from this day on I will be found ever pressing on to the high calling in Christ Jesus.
Join me in praying for the church, for the lost and if you would be so kind, pray for me as I embark on the next stretch of my journey on the God trail.
No turning back,
Pastor Dave