A few weeks ago I was in our local Christian Book store (Crosspointe Christian Books and Gifts, find them here: http://www.crosspointebooks.com/), and I came across this book by Robby Gallaty: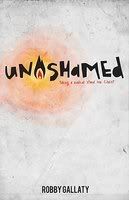 To be honest, the first thing I noticed about it was that it carried the following recomendation by David Platt, the author of "Radical". "I wholeheartedly recommend this pastor and this book to you." Now the book "Radical" has had, for lack of a better word, a radical affect on my life. So I thought, if David Platt recommends not only the book, but the pastor, maybe this is worth checking out.
So I bought the book. I took the book home. I put the book on the shelf. The book stayed there. I forgot about the book.
Last week I was on vacation, and I saw the book on my shelf of "books I want to read", and decided to give it a go.
All I can say is "WOW!" Just in case you didn't get that let me say it again: "WOW!"
Robby has taken his messages from the book of 2 Timothy and turned them into chapters for this book, and although most read 2 Timothy from the perspective of Paul writing to Timothy as a pastor, Robby takes this and makes it applicable to anyone who calls themselves a Christ follower.
Reading the short biography of the author in this book goes along way to appreciating the content of the book. You realize that Robby did not grow up with a spiritual "silver spoon" in his mouth. He lived a hard life...and then lived a redeemed life. The contents are not dry knowledge...it is the stuff you find that has been lived out and put into practice by the author.
If you are a pastor...you need to read this book. If you are a Bible teacher...you need to read this book. If you are a believer in Christ...you need to read this book.
Very few books have moved me to tears...but by the end of the chapter, as Robby is talking about finishing well and the Apostle Paul, I was crying, crying tears and crying out to God that I might finish well. I have been convicted by the words in this book and the teaching of Robby Gallaty. It has inspired me to crank up the ministry that God has given me, so much so, that I am considering taking some of my sermons and attempting to put them into book form...you can pray for me about that, ok. It has motivated me to dig deeper into the Word of God. It has caused me to refocus my energy and my attention to those things that have eternal value. It has reminded me that to run the race that has been set before me and to offer my life up as an offering to the Lord, poured out in ministry all for His glory!
There is much more I could say about this book, but let me just sum it up in three words: Buy this book! Ok, let me sum it up in six words: Buy this book! Read this book! Ok, nope. Let's try nine words: Buy this book! Read this book! Live this book! No, that's not it either. Hmmm...ok, let's try twelve words: Buy this book! Read this book! Live this book! Share this book! Yeah, that works. Twelve words.
In fact, I'm so pumped about this book that I want to give one away.. Yep, I will give one of these away to anyone who comments on any of the blog postings this month. (And no, I haven't forgotten the "Think" book giveaway...the winner will be announced tomorrow).
The only "negative" thing I have to say is that the book does have some errors that a good proofreader should have caught. At least my printing did. But that is a minor quibble...nothing that would cause you to misundertand what Robby was trying to get across in the pages of this book.
You can check out the church that Robby pastors here: http://www.brainerdbaptist.org/index.php
Taking a radical stand for Christ,
Pastor Dave